27.01.2016
Handbook of Research on Transitional Justice and Peace Building in Turbulent Regions
Editors:
Fredy Cante (Universidad del Rosario, Colombia)
Hartmut Quehl (Felsberg Institute, Germany)
Co-Editor/Herausgeber
Fredy Cante: https://www.youtube.com/watch?v=wTiyLrsfpx0
IGI Global, Hershey PA 2016
In the era of globalization, awareness surrounding issues of violence and human rights violations has reached an all-time high. In a world where billions of human beings have the potential to create endless destruction, these same individuals are capable of working cooperatively to create adequate solutions to current global problems. The Handbook of Research on Transitional Justice and Peace Building in Turbulent Regions focuses on current issues facing nations and regions where poverty and conflict are endangering the lives of citizens as well as the socio-economic viability of those regions. Highlighting crucial topics and offering potential solutions to problems relating to domestic and international conflict, societal safety and security, as well as political instability, this comprehensive publication is designed to meet the research needs of economists, social theorists, politicians, policy makers, human rights activists, researchers, and graduate-level students across disciplines.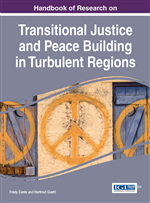 http://www.igi-global.com/book/handbook-research-transitional-justice-peace/137136#table-of-contents
Als PDF-Datei hier
---